Network news coverage of Hunter Biden totals less than 10 minutes over 41 hours of programming; Fox News contributor Joe Concha weighs in.
President-elect Biden on Wednesday directly addressed questions about a federal investigation into his son, Hunter Biden, for the first time, saying "I'm confident" that he did nothing wrong.
Hunter Biden in a statement released last week by the transition organization for Biden and Vice President-elect Kamala Harris acknowledged that the U.S. Attorney's Office in Delaware is "investigating my tax affairs." He said that he takes "this matter very seriously but I am confident that a professional and objective review of these matters will demonstrate that I handled my affairs legally and appropriately, including with the benefit of professional tax advisors."
TRUMP ASKING ABOUT POTENTIAL SPECIAL COUNSEL TO INVESTIGATE HUNTER BIDEN AFTER BARR RESIGNATION
The transition said that Biden is "proud of his son," in a statement released at the same time.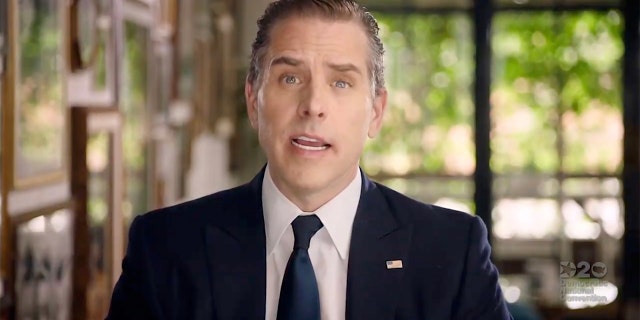 In this screenshot from the DNCC's livestream of the 2020 Democratic National Convention, Hunter Biden, son of Democratic presidential nominee Joe Biden, addresses the virtual convention on August 20, 2020. The president-elect for the first time Wednesday directly addressed questions about a federal investigation into his son. (Photo by DNCC via Getty Images) (Photo by Handout/DNCC via Getty Images)
Biden, has been questioned about the investigation into his son in recent days and had either not responded or said "I'm proud of my son."
CLICK HERE TO GET THE FOX NEWS APP
Wednesday he was questioned again by Fox News' Peter Doocy about if he is confident his son did nothing wrong, to which Biden responded "I'm confident."
Hunter Biden has come under intense scrutiny in the past year over his business dealings involving China, Ukraine and his taxes. President Trump, in the waning days of his presidency, is reported to be considering whether he should request a special counsel to continue the Department of Justice's investigation into the president-elect's son.
Fox News' Peter Doocy and the Associated Press contributed to this report.