Republican Utah Rep. John Curtis has announced that he will not run to succeed retiring U.S. Sen. Mitt Romney, noting his belief that "we need elected leaders who are more concerned about doing their job than getting the next job" in a Monday op-ed.
Romney's retirement has left the primary field in Utah, a Republican stronghold, wide open. Declared candidates include state House Speaker Brad Wilson, Riverton Mayor Trent Staggs and Roosevelt Mayor Rod Bird Jr.
Curtis has represented Utah's deep-red third congressional district, which stretches from his native Provo to the Colorado border, since 2017.
U.S. Rep. John Curtis won't run to succeed Mitt Romney, leaving the race to replace the nationally known Utah senator clear of one of the state's best known Republicans.
"We've accomplished a lot but my work for them is not done," Rep. John Curtis wrote in a Monday op-ed in the Deseret News. "I believe we need elected leaders who are more concerned about doing their job than getting the next job. To walk away now would leave a commitment unfilled. I want to finish the job."
A former mayor of the city of Provo, Curtis, 63, has served in Congress since 2017, winning a special election that year and reelection by wide margins ever since.
UTAH HOUSE SPEAKER JUMPS IN SENATE RACE TO REPLACE ROMNEY: 'OUR COUNTRY IS NOT ON THE RIGHT PATH'
Curtis emerged as a possible candidate after Romney, 76, announced last month that he won't run for reelection. Romney said he would be too old by the time his second term ended and that younger people needed to step up and run.
The announcement opened a wider door for next year's Senate race and led to speculation about whether Utah voters will choose a political moderate like Romney or a farther-right figure such as Utah's other U.S. senator, Mike Lee, a supporter of former President Donald Trump, who's running again for the Republican presidential nomination.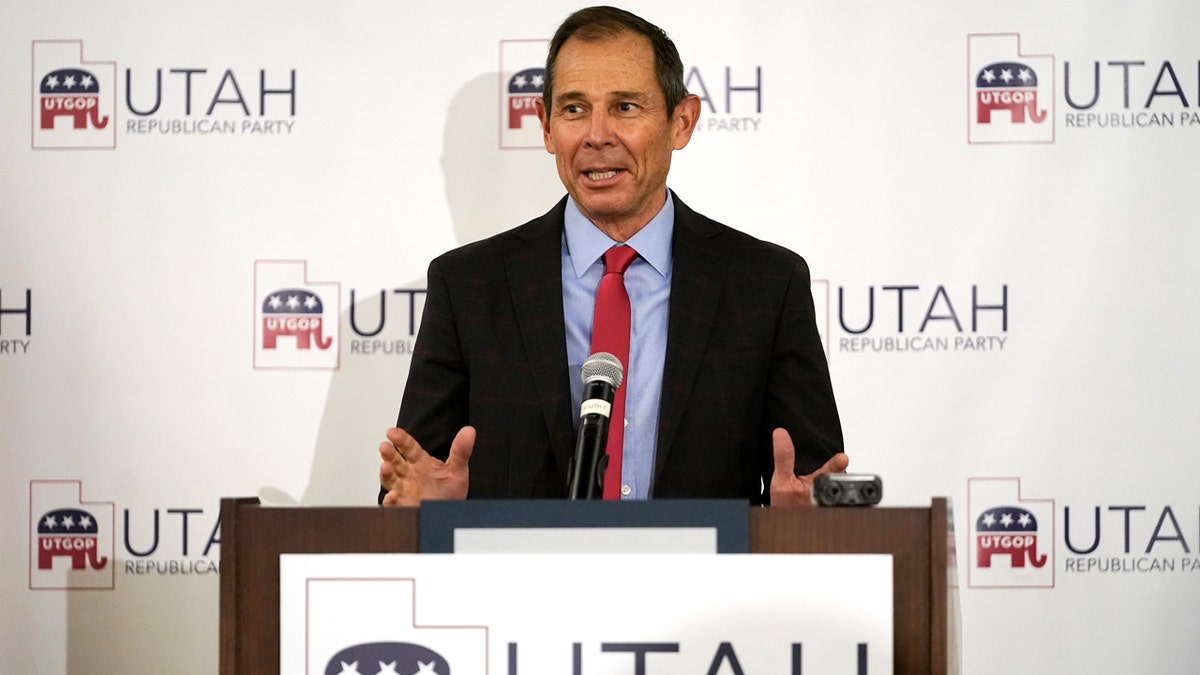 Curtis was considering a run as recently as last week, when campaign manager Adrielle Herring said internal polling was favorable and "everything is pointing" toward him running.
He would have been a formidable contender for the job in Republican-dominated Utah, along with Republican Utah House Speaker Brad Wilson, 54, who announced his campaign Wednesday. At his announcement rally, Wilson blamed President Joe Biden's administration for inflation, immigration problems at the U.S.-Mexico border, and high gasoline prices.
UTAH REPUBLICAN RAISES MORE THAN $2 MILLION AS HE EXPLORES 'LIKELY' BID TO TAKE ROMNEY'S SENATE SEAT
Wilson had expressed interest in running for months and has already raised $2.2 million, including $1.2 million in personal funds.
A handful of lesser known Republicans also have entered the race, including Trent Staggs, mayor of the city of Riverton and a securities investor who was first to announce in May; and Rod Bird Jr., mayor of the small Utah town of Roosevelt and founder of an oilfield supply company.
Possible additional candidates include Tim Ballard, founder of the anti-child-trafficking group Operation Underground Railroad. The organization inspired a film popular with conservative moviegoers last summer, "Sound of Freedom," even as Ballard was ousted from the group amid reports of sexual misconduct. Ballard denies the claims.
CLICK HERE TO GET THE FOX NEWS APP
The winner of next year's Republican primary on June 25 will be heavily favored to win the general election in November. The state's Republicans outnumber Democrats by a more than 3-to-1 margin.