Rep. Matt Gaetz, R-Fla., on Monday demanded House Speaker Kevin McCarthy reveal the details of a supposed "secret side deal" on Ukraine he claims was negotiated with Democrats and President Biden in order to avoid a government shutdown, before fellow Republicans are presumably set to vote on the speaker's potential ouster later this week. 
After addressing the House floor, Gaetz told reporters on the steps of the Capitol that he still planned to introduce a motion to vacate McCarthy's speakership "this week," but not Monday as not all members were in town yet. Gaetz repeated that his fight against McCarthy, R-Calif., was not personal, despite the speaker's assertion otherwise. 
Gaetz fell short of introducing his promised motion to vacate McCarthy but accused McCarthy of stepping outside the Republican conference in order to negotiate an agreement on a resolution over the weekend that avoids a government shutdown for another 40 days. 
"The speaker of the House gave away to Joe Biden the money for Ukraine that Joe Biden wanted. It is going to be difficult for my Republican friends to keep calling President Biden feeble while he continues to take Speaker McCarthy's lunch money in every negotiation," Gaetz said.
"Ukraine has lost the support of a majority of the majority. The last time there was a freestanding Ukraine vote on this floor, it was last week, 101 Republicans voted for it, 117 Republicans voted against it. According to the Hastert Rule, which Speaker McCarthy agreed to in January, you cannot use Democrats to roll a majority of the majority, certainly on something as consequential as Ukraine," he said. "So for all the crocodile tears about what may happen later this week about a motion to vacate, working with the Democrats is a yellow brick road that has been paved by Speaker McCarthy. Whether it was the debt limit deal, the C.R. or now the secret deal on Ukraine." 
HOUSE GOP MEMBERS SEEK TO EXPEL GAETZ AMID RENEWED THREAT TO VACATE HOUSE SPEAKER MCCARTHY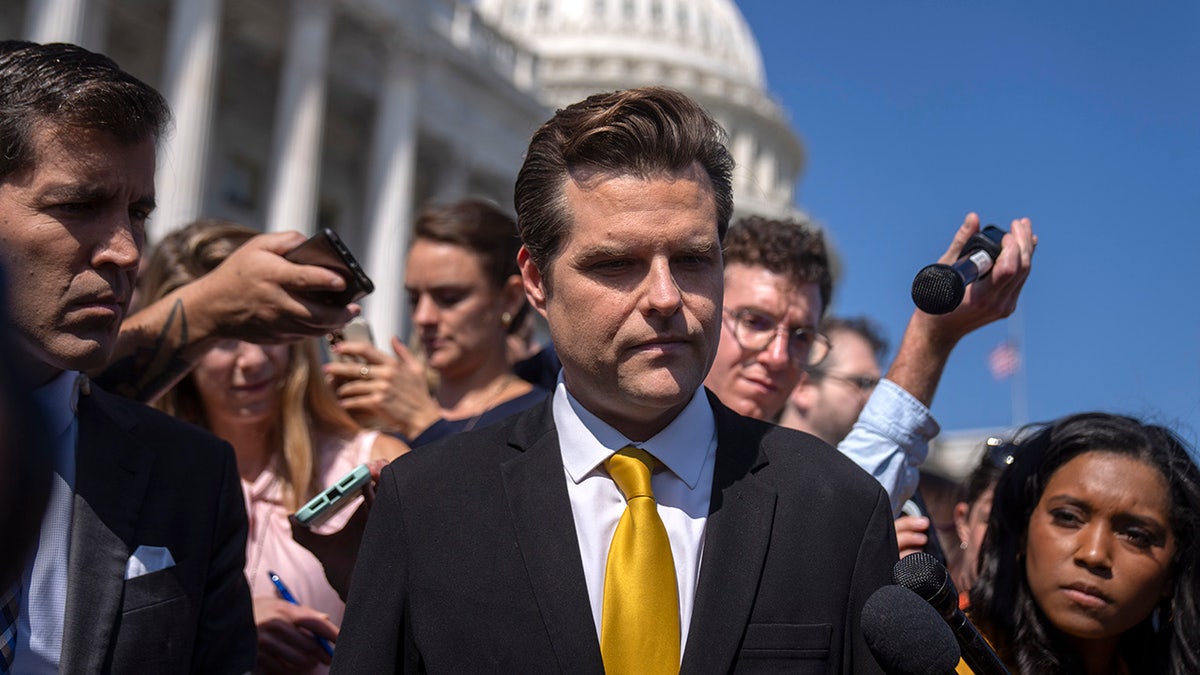 "It is becoming increasingly clear who the speaker of the House already works for, and it's not the Republican conference," Gaetz said. "Mr. Speaker, I would ask that these questions be answered soon because there may be other votes coming today or later this week that could – be implicated by the answers to these questions. Members of the Republican Party might vote differently on a motion to vacate if they heard what the speaker had to share with us about his secret side deal with Joe Biden on Ukraine. I'll be listening. Stay tuned." 
Gaetz further argued before the House that funding for Ukraine and the border should not be rolled into one massive spending package and should instead be considered as single-subject bills, noting the "spirit of the January agreement" the House Freedom Caucus reached with McCarthy during his speakership fight.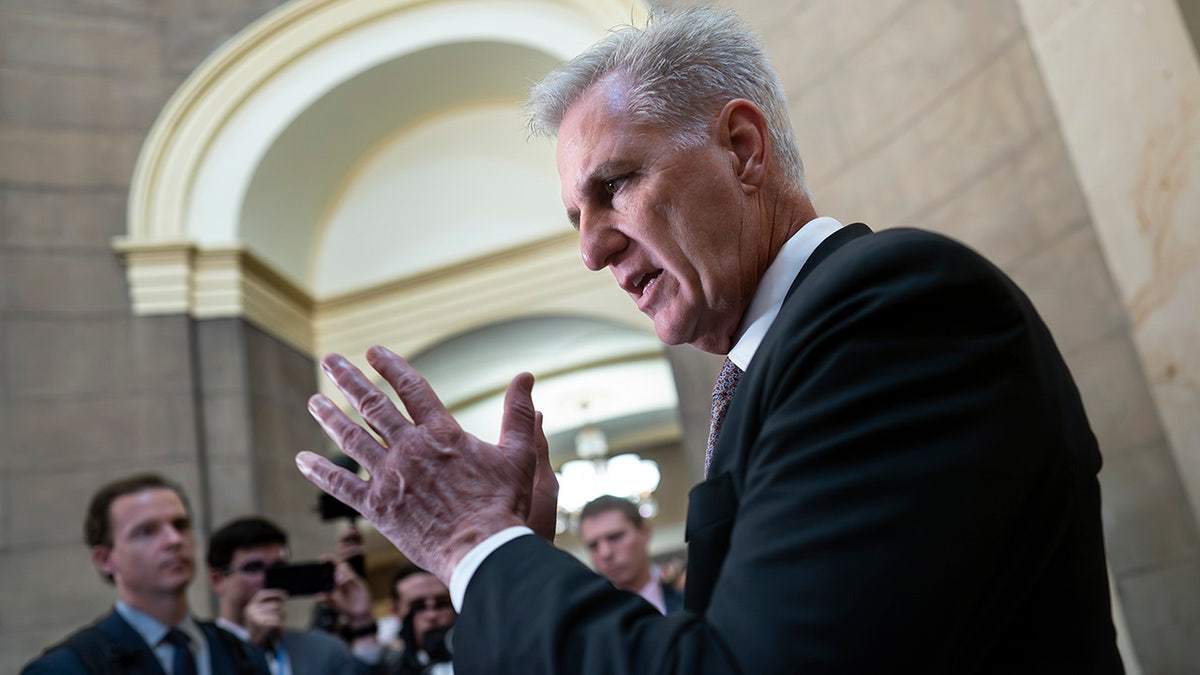 FORMER HOUSE SPEAKER FLOATS IDEA OF REMOVING GAETZ FROM HOUSE GOP CAUCUS, COMMITTEES
"You know how we should stand up for our border? Demand that the United States Senate take up our single subject appropriation bill that funded the border. It created Republican unity. We voted for it. It has the policy demands that the continuing resolution that Speaker McCarthy advocated for on this floor did not," Gaetz said. "Our DHS funding bill requires E-Verify. And then hours later, after we passed that, the speaker wanted us to vote for a continuing resolution that didn't include E-Verify."
"Retreat is never a strategy to win anything," he said.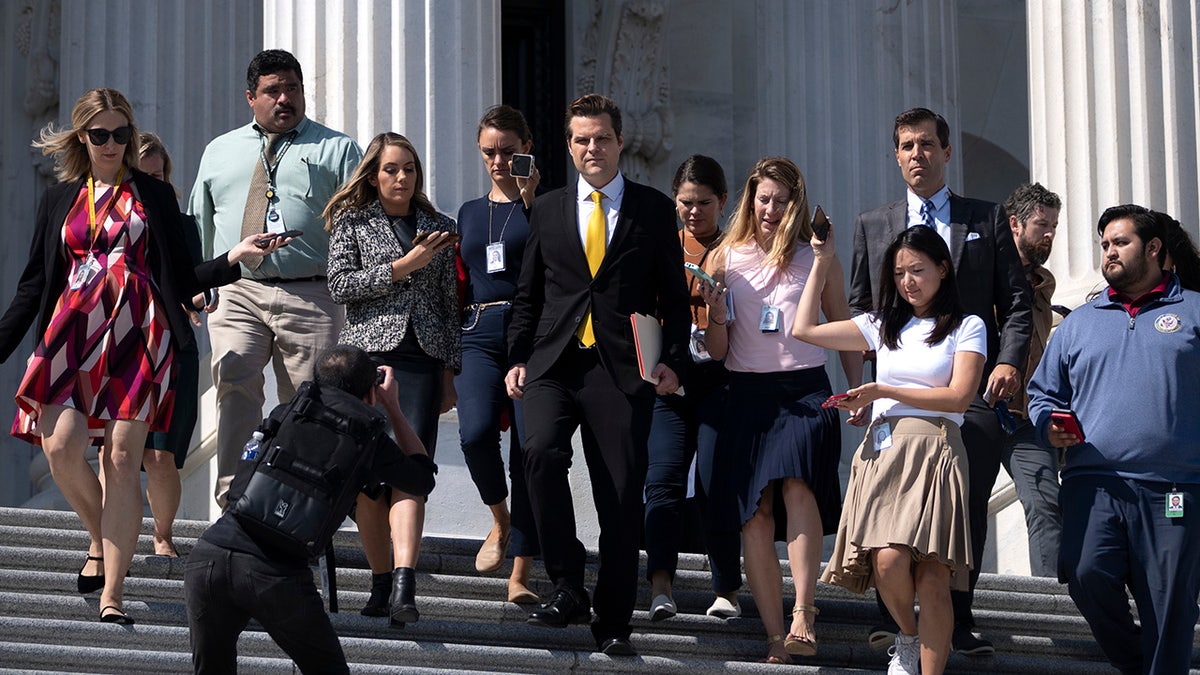 Gaetz also claimed to have spoken with former President Donald Trump on the potential motion to vacate – but declined to elaborate further. 
"You talk about chaos, as if it's me, forcing a few votes and filing a few motions," Gaetz told reporters. "Real chaos is when the American people have to go through the austerity that is coming if we continue to have $2 trillion annual deficits. You don't know chaos until you've seen where this Congress and this uni-party is bringing us."
Meanwhile, Fox News first reported Sunday that House GOP members are preparing a motion to expel Gaetz if the ethics committee report comes back with findings of guilt. 
The House Ethics Committee has been investigating Gaetz since 2021 on allegations, including campaign finance violations as well as claims of taking bribes and using drugs – accusations the congressman has vehemently denied. Gaetz also denies allegations leaked from a Justice Department sex trafficking probe said to have involved an underage girl.
CLICK HERE TO GET THE FOX NEWS APP
It takes a two-thirds vote to expel. And Republicans are treading on thin ice with their majority. The House is down to 433 members. It's unclear where things stand with federally indicted Rep. George Santos, R-N.Y. If members are expelled, retire or die, the majority could be right on the edge for the GOP. 
Fox News' Kelly Phares and Chad Pergram contributed to this report.